Buys
Nothing this week. Except, y'know, food. But it was a short week.
"Accomplishments"
DVDs: In preparation for the new series of Doctor Who, I flipped the old one, namely: The End of Time. If, like me, you bought the specials separately, this is where you'll find most of their extras like deleted scenes (though none are interesting) and Tennant's video diary (if the Doctor's last line choked you up, this is even worse). Tennant has friends along on the commentary tracks, there are two hours of Doctor Who Confidential, the Christmas BBC idents, and 20 minutes from ComicCon. A good package, and you already know my opinion about the story itself from Thursday's blog.
On Kung Fu Friday, we watched The Magnificent Butcher, THE Sammo Hung classic, and without a doubt the best calligraphy battle I've ever seen. This comedic tale of Wong Fei-Hung's portly student, Butcher Wing, has all the hallmarks of a Sammo Hung film: great and surprising action, 5 or 6 subplots pulling on the story's blanket, anachronisms, and bathroom humor. It's all part of the charm, though some viewers may stop short at the almost-rape scene played straight. It's a very dark moment in the middle of this comedy, but as usual, Chinese filmmakers go to extra lengths to make their villains hateful. Aside from a Benny Hill-type clip video featuring Sammo, there aren't really any worthwhile extras here.
New
Unauthorized Doctor Who CCG
cards: 5... 4 from The End of Time, which I'm working on now, and one without any spoilers for the 11th Doctor: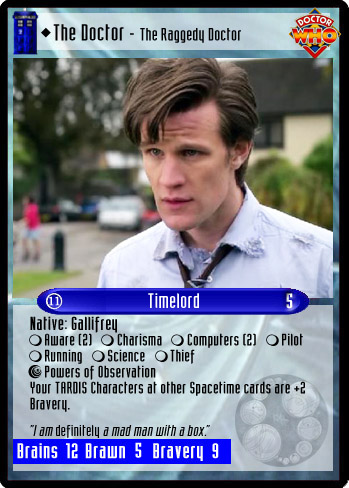 Hyperion to a Satyr
entries this week include:
Act 1 Scene 3 according to The Banquet